Checklist: At least 40 things you should do in Ottawa before summer's over (2018 edition)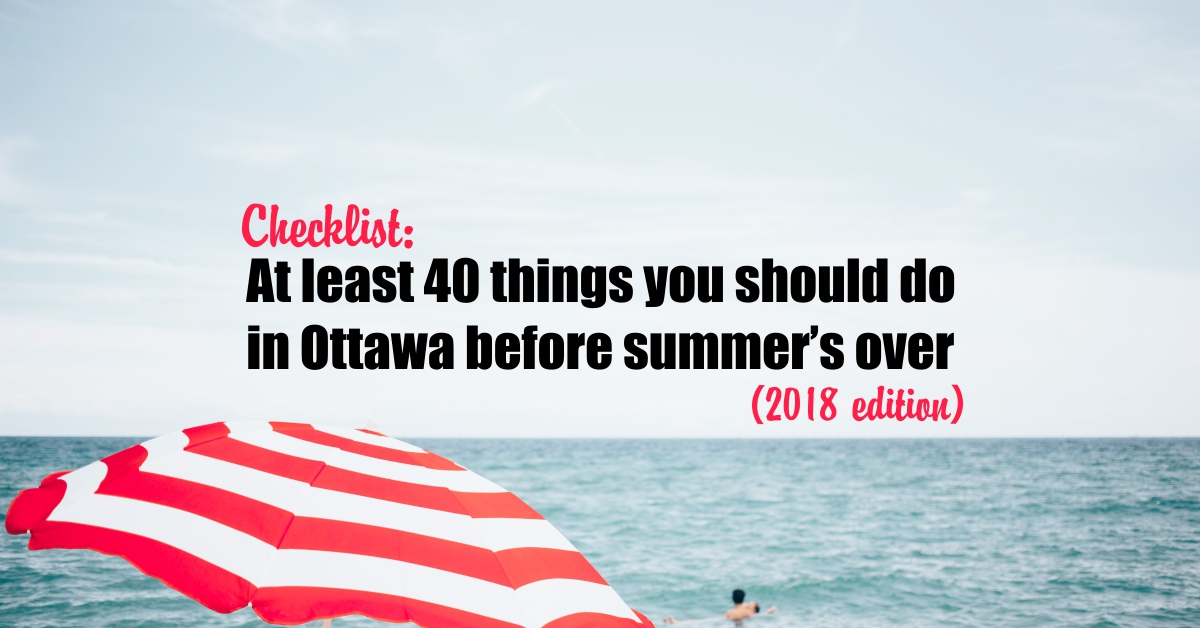 OttawaStart.com, BY OTTAWASTART STAFF · AUGUST 16, 2018
We're nearly halfway through August and the summer is just flying by.  But there's still a lot of hot days and sunshine left.
Here's a list of 40 or so things you should check out before September.
Go see Northern Lights and/or do yoga (Wednesdays at noon) on Parliament Hill.
Ride your bike on a parkway during Nokia Sunday Bikedays.
Have another beer (maybe for just a buck?) on another patio.
Buy fresh food at a local farmers' market.
Visit a local winery or brewery.
Take a road trip to Almonte or Merrickville or Perth or Wakefield or even Cornwall.
Go to a music festival.
Watch some theatre in a park from A Company of Fools or Odyssey Theatre.
Go to the fair.
Skateboard.
Take a haunted walk.
Go see Van Gogh Up Close at the National Gallery.
Walk around and admire Ottawa's street art.
Sample some street food.
Go for a stroll on the path along the Rideau Canal.
Build a sand castle at a beach or swim in an outdoor pool.
Explore a cave.
Take a photo of a gorgeous sunset.
Go to a drive-in movie.  There's one in Gatineau and one near Perth.
Go to an outdoor movie like Centretown Movies.
Check out Saturday night reggae at Westboro Beach.
Go see The Art of the Brick at the Museum of Science and Technology.
Walk through the grounds at Rideau Hall.
Rent a paddleboat at Dow's Lake.
Play mini-golf.
Take your dog for a run at Lemieux Island.
Take a hike in the Greenbelt.
Go to a water park;  Calypso or Mont Cascades.
Check out Armour at the War Museum.
See some fireworks at the history museum.
Go to a beach in the Gatineaus.
Bike down that really steep hill behind Major's Hill Park.
See the birds at the Museum of Nature.
Invite your neighbours over for a BBQ.
Go to a block party.
Hire a rickshaw.
Learn how they wash the cows at the Agriculture Museum.
Ride on a pirate ship on the Rideau Canal.
Watch the hot air balloons over Gatineau.
Go ziplining.