Paint Trends for 2019: Just Breathe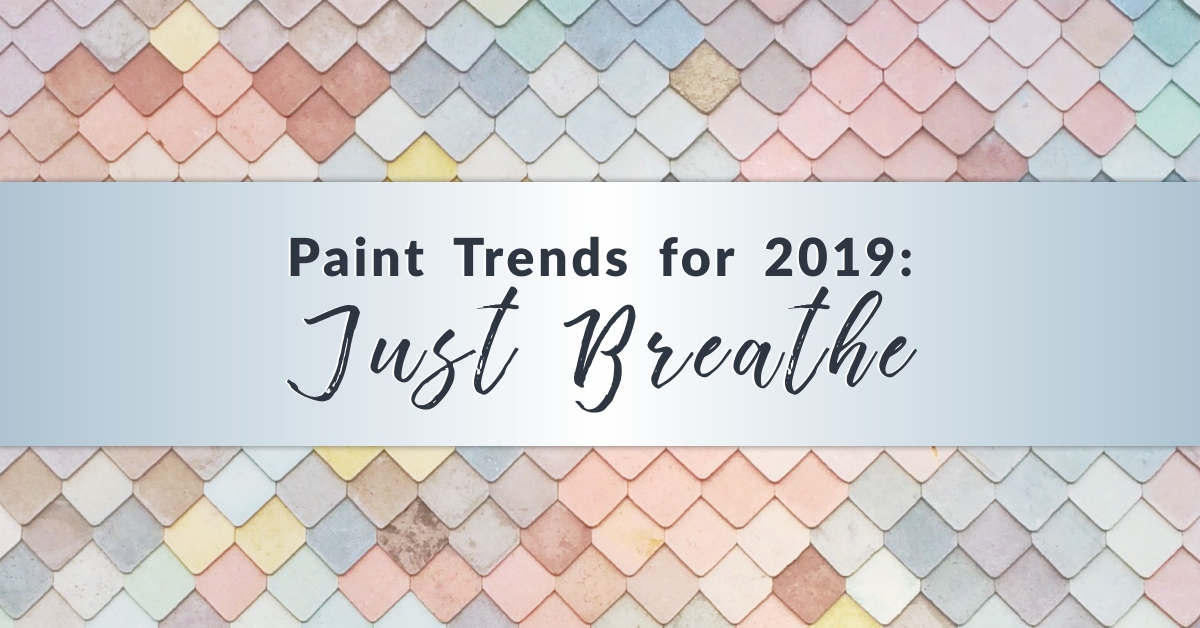 NationalPost.com, Paint Trends for 2019: Just Breathe by Martha Uniacke Breen. October 27, 2018.
The major paint manufacturers have unveiled their picks for colour of the year 2019, and if all the choices could be summed up in one idea, it would be "relaxed." That's not to say next year's palette is neutral or boring; ¬there are jewel tones and an evolution of strong shades, including near-blacks, from past years. But what distinguishes this year's picks is a general smokiness, a gentling down of colour, and a sense that many of these colours would work together beautifully, even across brands. Which means that making choices in décor, from fabrics to materials and textures, is easier than ever for consumers.
What's driving this movement towards easy-going, simplified decorating? Colour-of-the-year choices often grow out of a range of demographic, cultural and even political trends, as well as more material influences such as fashion and industry. Arguably, political noise on both sides of the border and around the world has given us an urge to just go somewhere and be quiet for a while. And what better sanctuary than the home?
"When we sat down to discuss design and colour from a social perspective, we came to the idea of the Quiet Revolution," explains Sharon Grech, colour and design expert at Benjamin Moore. "The mood is similar to last year, but now the reaction is different. Where we might have been more passive in our convictions last year, now the feeling is, 'I need to pause, to take a break.'"
Cloud White Ben Moore
For Susan Forint, design and colour expert at Dulux, there's a certain exhaustion with 24-hour political news, communications and technology. "Perhaps we have too much information at our fingertips; we need to turn to nature, to reboot, step away from it."
It's also about a longing for simplicity, adds Erika Woelfel, Behr VP of colour and creative services. "Curation is a word we've been hearing a lot. It's about simplicity, streamlining our choices, helping to narrow down our decisions." The rise of super-decluttering trends like the Marie Kondo Method appeals to our need to regain control through overcoming the excess — physical and psychological — in our lives.
Sherwin Williams' director of colour marketing, Sue Wadden, points out that a return to our own unique touchstones is very important these days. Disparate influences, from roots and global cultures to the women's movement, translate into colours that have a personal resonance. The popularity of cosmetics colours, such as blush, peach, corals and other shades that are flattering to the skin and soothing to the soul, tie into this.
Benjamin Moore recently announced Metropolitan as its 2019 pick, a complex mid-grey with undertones of green, yellow and blue. "It's more interesting than just a plain battleship grey," says Grech. "It's not always what it appears to be. It's versatile and glamorous, but it's soft as well. It's as if society needs a break and a way to find common ground, and grey is great for that." Even the name carries a sense of community, Grech observes, comparing it to the Metropolitan Museum of Art in New York. "It's about a sense of commonality we share with other people."
VERSATILE
Sherwin Williams's 2019 pick, Cavern Clay, picks up on the one-world idea. A rich, desert terra cotta, it's similar to the Santa Fe colours of the '70s, but more versatile than that. "It's really like a matte version of copper, or rose gold," says Wadden. "There's something familiar about the colour that appeals to people. We'll be seeing this shade in many media: furniture, textiles, and consumer products of all kinds. And it works well with many colours and textures: neutrals, navy, greys, natural materials."
Dulux has chosen a deep, velvety green with grey and blue undertones called Night Watch. "It's both calming and invigorating at the same time," explains Forint. "There's a nod to nature, but it has an urban sophistication as well." The shade has a cocoon-like, almost dimensional feeling, and a mid-tone value that can perform either as a neutral, or a colour, depending on what you pair with it.
Metropolitan Ben Moore
Behr's 2019 choice, Blueprint (one of the most illustrative names in the 2019 palette, since it's exactly the colour of blueprints), reflects a trend to blues of every hue in such disparate areas as travel, automotive, fashion, textiles, consumer products and even food. "And of course it's a colour we see everywhere in nature," says Woelfel. "Blueprint is neither dark nor light. It represents stability but also confidence; it's a classic. It hits the sweet spot between all of these things."
Usually, paint companies roll out a range of supporting shades to offer inspiration and choices to combine with their colours of the year. In the case of Benjamin Moore, Metropolitan was drawn from its Affinity Collection, introduced a few years ago as a way to simplify the task of choosing colours that go well together. (The Marie Kondo Method applied to paint, in a sense.)
"Every one of these colours has the same feeling as Metropolitan, with that softness," says Grech. "Kendall Charcoal has been my go-to grey for years; it just envelops you. Beau Green is a bit brighter than some of the others, with a global feeling to it. And Head Over Heels is warmer, more mature than a lot of other pinks." A nod to the idea of familiarity comes in the inclusion this year of BM's top-selling white of all time, Cloud White, along with a cooler tint called Decorator's White.
According to Behr's Woelfel, all the colours in the 2019 palette have similar saturation levels, which help them naturally harmonize. The company divides its suggestions into four palettes, each of which create different moods or effects. Some of Woelfel's favourites include Sand Dance, a misty tan-peach that pairs especially well with Blueprint; Watery, a delicate light blue more sophisticated than baby blue; Antigua, a near-tropical teal; or Mars Red, a gentle, pale coral-red.
In the Sherwin Williams palette, Sue Wadden recommends Distance — "blues will be very important next year, but not sweet blues; this is a dusty, natural, earthy blue. It looks great with stone whites and mushroom shades." Haven is an updated sage green, another '70s colour due to reappear that, says Wadden, "plays well in the sandbox with many colours and looks, from Scandinavian to mid-century modern."
FINISHING TOUCHES
Dulux recently introduced a new finish called Venetian Silk as an updated version of the paint treatments of the '90s, available in 40 colours, including a variation on the colour of the year called Mojito Shimmer. Applied in a simple two-step treatment, it produces a shimmering, dimensional effect, and can be used either as an accent wall, or for a whole room, to instantly elevate a space.
All of the 2019 picks are relaxed and easy to work with; unlike some edgier shades we've seen in past years, the overall mood is elegant but softer. And all of these colours seem to have been chosen for ease of decorating, since every one is equally at home with natural fibres and textiles, hard metals or soft woods, and a range of decorating styles.
"All of these colours will play together and bring out the things in your room — furnishings, art, accessories," says Grech, "rather than draw attention to themselves. Which is really the whole point of a great paint colour, after all."